There's no shortage of mindfulness and meditation apps these days, promising to help you combat anxiety, sleep better, hone your focus, and more. In fact, the Wall Street Journal reports that more than 2,000 new meditation apps launched between 2015 and 2018. We scoured the app stores to find the most valuable and easy-to-use mindfulness apps that are available for free. Two on this list are completely free, while the rest include a free version with the option to upgrade to premium content and features.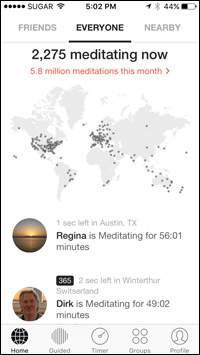 Available for iOS and Android
Entry price: Free. But you have to navigate around the subscription screen with the button that says "Start 7 Day Trial. Once you scroll past that, you can access the free content.
Insight Timer has an insanely huge library of content: over 25,000 guided meditations from around 3,000 teachers on topics like stress, relationships, creativity, and more.
Right from the beginning, the app feels like a community—the home screen announces, "420,065 meditations today, 5,059 meditating right now." In fact, Insight Timer has attracted more than 6 million meditators from around the world. After you finish a meditation, you'll learn exactly how many people were meditating "with you" during that time—and by setting your location, you can even see meditators nearby and what tracks they're listening to.
Once you find a teacher you enjoy—like Jack Kornfield, Tara Brach, or Sharon Salzberg—you can follow them to make sure you don't miss any new content. If you prefer a quieter meditation, you can always set a timer and meditate to intermittent bells or calming ambient noise.
You can also tune in to 2,000 free talks and podcasts for life advice and inspiration, and music tracks to soothe your mind or help you sleep.
Depending on your preferences, Insight Timer's extensive collection can be either a blessing or a curse—an endless list of choices that leave you overwhelmed or a buffet of tempting options to sink your teeth into.

Paid option: For $59.99 per year, you get access to courses with well-known teachers, a new daily meditation for anxiety and stress, and the ability to download meditations, listen offline, and fast forward and rewind.
Available for iOS, Android, and web

Entry price: Free

Smiling Mind hits the sweet spot for a free mindfulness app in so many ways.

The app features hundreds of meditations, enough to keep you engaged without overwhelming you with choice. They are organized into structured programs like Mindful Foundations (42 sessions), Sleep (6 sessions), Relationships (13 sessions), and Workplace (41 sessions), but you have the flexibility to choose where to start and to easily jump between programs. Most meditations are in the five- to fifteen-minute range, with a few practices up to 45 minutes for advanced meditators.

Downloaded by over 4 million people, the app also has a variety of specialized programs for educators (including curricula they can use in the classroom); for children and teens of various ages; all developed with the help of psychologists and health professionals.

While you could use a meditation app as a temporary break from your hectic life, Smiling Mind wants you to take your mindfulness practice off the cushion and into the other 23 hours of your day. Interspersed with the meditations are audio instructions for "activities" with catchy names like Are You Really Listening?, A Legal Alien, and Finding Your Inner Master. In Are You Really Listening?, for example, you learn to treat other people's speech as an object of meditation, focusing on what they are saying and bringing your attention back when it wanders to your own thoughts.

Created by a nonprofit by the same name, Smiling Mind is entirely free—so you don't have the distraction of paid content that's inaccessible to you as a free user. The app wants to put a "smile on your mind"—and it might just succeed.

Paid option: None

Available for iOS and Android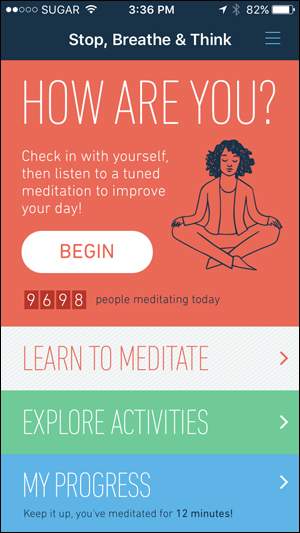 Entry price: Free. If you explore "All Sessions" you can access the free meditations all in one place and also take a peek at what the upgrade to a paid plan offers.
If other apps expect you to dive right in, Stop, Breathe & Think wants to create a more deliberate, intentional experience. A section called Learn to Meditate explains what mindfulness is and why it's beneficial, including some of the neuroscience and physiology behind it. Each day when you open the app, you're asked "How are you?" and invited to check in with yourself—to rate your mind and body on a scale of "rough" to "great," and note up to five emotions you're feeling. Then, Stop, Breathe & Think will recommend meditations, mindful walks, and even acupressure videos tailored to how you feel.
Meditations based on how you feel
The app features around 30 free sessions. For many of them, you can choose between different lengths and either a friendly male voice (Grecco) or a calming female voice (Jamie) as your meditation guide. Most of the meditations are short, up to 11 minutes, and feature simple introductory practices like Body Scan, Forgiving Yourself, and Joy. You can also simply set a timer and sit in silence, learn different breathing techniques, or listen to relaxing forest sounds.
A progress page keeps track of how your mind and body have been feeling over time, and your most common emotions (before and after meditating, when the app invites you to check in again). Plus, you can earn cute stickers: As a newbie, I've collected "Good Start" and "Trio of Tranquility." Stop, Breathe & Think is ideal if you need to understand why you're meditating and see how it's benefitting you in order to keep up the habit.
Paid option: For $58.99 per year, you get longer versions of the existing meditations (up to 30 minutes), 100 premium meditations, new voices, more yoga and accupressure, and the ability to journal on the app.

Available for iOS and Android

Entry price: Free

If all the research on mindfulness has persuaded you that you need to meditate, the UCLA Mindful app could be a good place to start.

Developed by the Mindful Awareness Research Center at the University of California, Los Angeles (UCLA), the app features about a dozen meditations of different types in English and Spanish. You can learn to focus on your breath, your body, or sounds; work with difficult emotions; and cultivate loving-kindness in sessions ranging from 3 to 19 minutes long.

If you're new to mindfulness, you might choose to take advantage of their Getting Started section, which offers information on what mindfulness is, how to choose a meditation, which posture is best for your practice, and what research-backed benefits you might expect from it.

As a bonus, the app also offers longer meditations that it calls "podcasts." These are half-hour audio recordings of lunchtime meditations that take place weekly on the UCLA campus, including comments before and after the meditation as well as plenty of silent practice time.

UCLA Mindful was released just this spring, and users report that they're still working out the kinks, at least on the Android version (and Getting Started wouldn't load for us on iOS, either). But if you're looking for an app that is heavily grounded in the science of mindfulness, you can put your trust in UCLA Mindful.

Paid option: None

Available for iOS and Android
Entry price: Free
The tagline for 10% Happier tells you the most important thing you need to know about the app. It's "meditation for fidgety skeptics"—a relatable, no-nonsense way to learn mindfulness for people whose goals veer more toward sharpening their brains than befriending their souls.
Unlike some other mindfulness apps, 10% Happier comes with a tour guide. Dan Harris is a news anchor who famously had a panic attack on live TV, an experience that eventually led him to pursue meditation.
Authoritative conversations about meditation
There's really only one 7-day free offering on 10% Happier, and we hesitated to include it in this list, but what it lacks in quantity it makes up for in accessibility, authority, and unique perspective. What's free is The Basics series, a one-week orientation to mindfulness. Each day features an introductory video by Harris (often in conversation with instructor Joseph Goldstein), and a meditation by Goldstein.
Harris uses his journalistic chops to take these seven conversations with Goldstein to the heart of the most pressing questions new meditators have—like how to know you're doing it right and how to deal with boredom. Goldstein, who is a seasoned meditator, offers wise insights based on his decades of experience.
Harris also hosts the 10% Happier podcast for free (outside the app), featuring conversations with people from Richard Davidson to Jon Kabat-Zinn, Arianna Huffington to the Dalai Lama. If other mindfulness apps don't speak your language, 10% Happier might be the app for you.
Paid option: For $99.99 per year, you get access to over 350 guided meditations, the ability to download meditations for offline listening, and courses on stress, focus, performance, relationships, and more.